The Company. Our core Values. Our Beliefs.
ASPIRE strongly adheres to the code of the triple bottom line: Sincerity, Harmony, and Spirit .

With genuine Sincerity, ASPIRE supports its clients, business partners, and communities.
With sense of Harmony, ASPIRE steers its course of action.
With high Spirit, ASPIRE holds to uncompromising standards.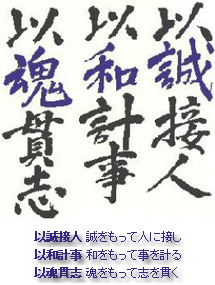 ASPIRE's foremost value lies in its creative intelligence- the ability to extract essential information from a jumble of information to subsequently form logical conclusions. It takes clear, logical reasoning, lending structure to complex issues and setting priorities. However, creativity is just as important for devising new lines of approach and developing new insights into complex problems. We are naturally curious and inquisitive minded, having the desire to understand the essence of things have a unique ability to synthesize- being able to form conclusions from various facts.
Our second value is the ability to empower clients. A strong and healthy organization is essential to success for driving positive change and implementing strategies. A strong and healthy organization requires key factors such as leadership, teamwork, effective communications, diversity management, and value alignment between individuals and organization. Combining our experience in activating organizational development with our progressive training techniques and forward-looking perspectives, ASPIRE Intelligence assists clients achieve their goals and sustainable growth.
Thirdly, we are a "cultural translator". Regardless of the industry or size of your business, there is increasing pressure to globalize in order to remain competitive in today's fast-paced international market place. However, many Japanese companies still share some challenges in common : development of Japanese global leaders show will shine in the US, effective communication with non-Japanese staff and customers, and global permeation of the corporate philosophy. ASPIRE Intelligence is well-versed in US-Japan cross-cultural dynamics. We can act as a cultural translator, and help you achieve mutual understanding of cultural differences, avoid unnecessary conflicts, misunderstanding, and mistakes, and increase global team synergies.
Our mission is to contribute to our clients in making lasting improvements in their global business between the US and Japan, and act as the "cultural translator" to facilitate their "strategic growth" and to help them develop "healthy organization and team".
Natsuyo Nobumoto Lipschutz
Founder and Managing Principal, ASPIRE Intelligence LLC
Natsuyo received her MBA degree from the New York University Stern School of Business. She obtained her BA degree in cross-cultural communication in business from the Waseda University School of Commerce. Natsuyo also attended Washington University in St.Louis as a full-scholarship exchange student during her undergraduate studies.
Prior to establishing ASPIRE Intelligence in 2004, Natsuyo has held a position at ITOCHU International Inc. (New York) as a sales and business development manager in the steel and pulp & paper departments. She has served as a management consultant for McKinsey & Company (Tokyo), and as a marketing research, analysis, and strategy specialist at Eisner LLP (New York).
Additionally, she currently writes a series of columns for major media outlets, and conducts speaking engagements at various business conferences as a speaker/moderator/MC.
Natsuyo is the 2-time first place winner of Toastmasters International Speech New York Division E Contest Spring 2013 and 2014.
Natsuyo is a bilingual (Japanese and English) consultant, residing in New York since 1995 and frequently travels to Japan.